Climbing to the top in the tree service field is not as simple as putting in your time behind a chainsaw. If you are a tree service professional reading this post, you are likely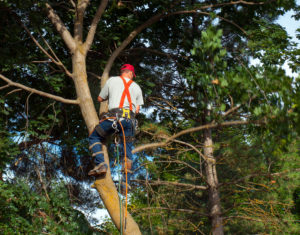 wondering whether to go back to school for an arboriculture certificate. One of the best reasons to invest your time and money in an educational credential is to earn more money, but how does an arboriculture certificate from a community college help you do that?
What can you do with your Arboriculture credential from a community college?
You can immediately qualify for a job as a tree crew member. Arboriculture classes at Mount Wachusett Community College include both hands-on skills training and in-class lectures. You will learn:
Chainsaw Operation and Safety*
Chipper Operation and Safety*
Climbing
Installation and Selection*
Notching/Felling
Pruning*
Roping and Rigging
Tree Diagnosis and Treatment*
Tree Identification and Protection*
Tree Risk Management*
Urban Forestry*
*These areas will also be on the ISA certification exam.
How much do entry-level tree service employees earn in Massachusetts?
The average wage for a tree service professional is between $20-$40 an hour as of summer 2019. "If you have skills, you can make very decent money at this," said Blue Favreau of Favreau Forestry. "It depends on where you work. Massachusetts state wages are pretty high, $40 an hour to do state work. If it's residential or in the shop most people make about $20 an hour, more skilled people make $30 an hour. The prevailing wage for a bucket operator is $80 an hour!"
Salary and Career Outlook in Massachusetts
"If you like to work outdoors it's a great profession, there's a lot of work available," said Blue Favreau of Favreau Forestry. "We have enough work to get bigger, we just don't have the qualified employees. Last year when we put our spring hiring ads on Indeed.com, there were already 300-400 other hiring ads in the same area," said Favreau.
What would be the next step in your career after earning an Arboriculture Certificate from MWCC?
If you want to be hired for bigger jobs by local governments or businesses, you'll want to plan to become an ISA Certified Arborist. You can do that by working for 2 more years in the field and sitting for the ISA Certified Arborist exam.
Being an ISA Certified Arborist will make you more competitive in the job market because it indicates that you are a step ahead in your professional development. Certification from the ISA (International Society of Arboriculture) qualifies you as knowledgeable about tree biology, tree maintenance, and important safety practices. "This is a distinction in the field. It shows you are skilled, dedicated, knowledgeable, and ethical," said Favreau.
What else can you do to make yourself more attractive as a tree service employee?
You should get your CDL license to drive a bucket truck, grapple truck, or crane. How to get a CDL Learner's Permit in MA: https://www.mass.gov/how-to/apply-for-a-commercial-learners-permit-clp.
Who should become a tree service crew member?
Tree service crew members must be strong. "This is a physically demanding job. The age range is typically 25-45, but there are definitely exceptions and we have worked with people who are in their 50s. With modern equipment, there's not a lot of manual dragging of brush, but someone has to cut the wood!" said Favreau.
What are some examples of the work entry-level tree service employees do?
Operate the chipper
Preparing the day, set up making sure everyone is out the door on time
Assist people cutting the trees down
Ropework
As soon as they are able, they will process the wood with the chainsaw
Everyone does clean-up and some raking
What makes tree service work rewarding?
You get to work outdoors year-round out in the fresh air. "You'll love taking care of trees, saving them if possible, and being able to make a difference by removing tree-related drama from the homeowner's or business owner's life or from the town or state. When you don't care of your trees you have a lot of drama, especially around storm time," said Favreau.