Welcome and Thank You for Your Service
MWCC Veteran Services was established specifically to address the unique academic, financial, physical, and social needs of veterans transitioning from soldier to student. Staff are committed to providing Military Service Members, Veterans and their families with quality assistance and guidance throughout their academic career at MWCC. Feel free to visit the Director of Veteran Services located on the main campus in room 145 for support, resources, and information.
We offer assistance with: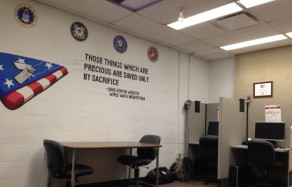 Enrolling & registering for classes
Veterans benefits and financial aid
Textbook loan program
Referrals to on and off-campus service providers
Peer tutoring/peer mentoring
---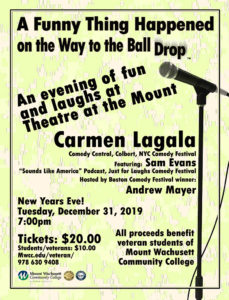 Fundraiser: A Funny Thing Happened on the Way to the Ball Drop
Join us for an evening of fun and laughs! All proceeds benefit Veteran students of MWCC.
Tuesday, December 31 (New Years Eve!) at 7PM at Theatre at the Mount
Carmen Lagala, (Comedy Central, Colbert); Sam Evans, (Sounds Like America)
Hosted by Boston Comedy Festival Winner, Andrew Mayer
General Audience: $20/person
Students/Veterans: $10/person
---
Mount Wachusett Community College officially subscribes to the US Dept of Education's 8 Keys to Veteran Success.
The 8 Keys to Veterans' Success
Create a culture of trust and connectedness across the campus community to promote well-being and success for veterans.
Ensure consistent and sustained support for veterans from campus leadership.
Implement an early alert system to ensure all veterans receive academic, career, and financial advice before challenges become overwhelming.
Coordinate and centralize campus efforts for all veterans, together with the creation of a designated space (even if limited in size).
Collaborate with local communities and organizations, including government agencies, to align and coordinate various services for veterans.
Utilize a uniform set of data tools to collect and track information on veterans, including demographics, retention and degree completion.
Provide comprehensive professional development for faculty and staff on issues and challenges unique to veterans.
Develop systems that ensure sustainability of effective practices for veterans.
Mount Wachusett Community College complies with Section 702 policy (regarding in-state tuition) for public IHL's. MWCC also complies with Section 103, PL115-407 and the requirements of 38 USC 3679(e).
Veteran students are given priority registration status and will be permitted to register as soon as enrollment opens.