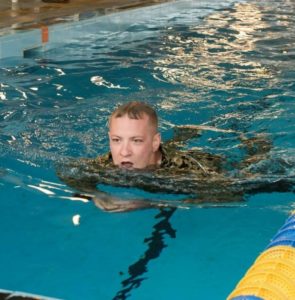 Our Master's swim team is coached by Ben Tucker: "My approach to swimming is with the mindset that using hydrodynamics, spatial awareness and stroke development through injury prevention, you truly harness the ability to reach your full potential. As I always say, "Perfect practice makes perfect! If you do something the wrong way you will not get any faster.""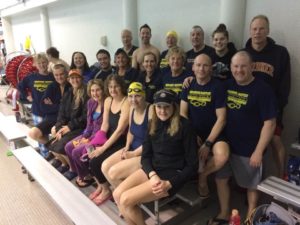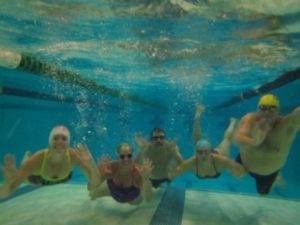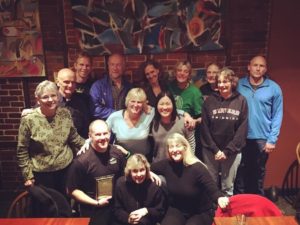 Masters typically has practices 2-3 times a week from September to March, there is an additional fee as well as becoming a USMS member. It is for swimmers 18 years and older of all levels. Some compete, some use it to become a more proficient lap swimmer, some are triathletes who use it to better their swim leg in triathlons. All are welcome (and we have some fun too!).
Some common questions:
The word "Masters" sounds intimidating. Do I have to be an expert?
The word Masters was first applied to adults who participated in track and field and was later adopted in organized adult swimming. In swimming, Masters simply means 18 and older.
What if I don't think I'm fast enough to be a Masters swimmer?
This is something a lot of Masters coaches hear. However, most Masters coaches and swimmers don't care how fast you are. In nearly every program, there are others of similar ability or those who started where you are and have improved. Don't let your perceived ability, or lack thereof, hold you back. Although it's important to have a physical examination before starting any exercise routine, you don't need to be in shape to start Masters swimming—Masters swimming will help you get there.
I'm a triathlete. Why should I join USMS?
Many triathletes, including world-class triathletes Sara McLarty and Ben Hoffman, join USMS programs because training with swimmers is the best way to improve the swim portion of the tri. Masters coaches provide technique instruction and interval training with a group. USMS membership also grants access to the triathlete-specific workouts posted regularly in the members-only Forums at usms.org. In addition, SWIMMER magazine and STREAMLINES newsletters have technique and training tips in each issue.