For over 39 years, Theatre at the Mount has been Central Massachusetts' premier regional theatre presenting high-quality entertainment at affordable prices. TAM's season consists of five full-scale musicals and plays, a spring children's show and a fall touring production performed at local elementary schools. Additionally, TAM offers Summer Drama Camp programs for children and teens and sponsors the TAMY award program, celebrating excellence in high school musicals. Season tickets packages, dinner theatre options and backstage tours for groups are also available.

Vanya and Sonia and Masha and Spike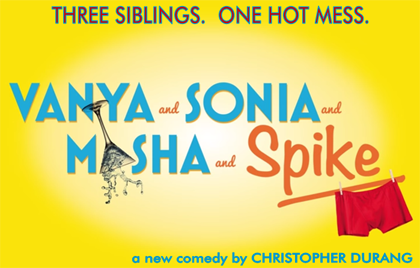 In this hilarious comedy, Vanya and his adopted sister, Sonia, live a quiet life in the Pennsylvania farmhouse where they grew up, while their sister Masha travels the world as a movie star. Just as their cleaning woman issues a warning about terrible events in their future, Masha returns for an unannounced visit with her 20-something boy-toy Spike in tow. And so begins this unforgettable family reunion filled with rivalry, regret, and racket. Winner of the 2013 Tony Award for Best Play!
Performances: October 6, 7, 13, 14 at 8PM; October 15 at 2PM
What's New?
DASH Nominations

The Eastern Massachusetts Association of Community Theatres (EMACT) recently announced the nominees for the 2016 – 2017 "DASH" Awards (Distinguished Achievement and Special Honors). Of the 100 productions entered in the competition, Theatre at the Mount received nominations in 20 categories. Nominations were awarded to:
HAIRSPRAY
Best Supporting Actor (Musical) – Michael Celularo
Best Youth Actor (Musical) – Jaden Scott
BOEING, BOEING
Best Set Dressing (Play) – Lorien Corbelletti and Gail Steele
Best Costume Design (Play) – David Allen Prescott
Best Stage Management (Play) – Gail Allen
Best Prop Coordination (Play) – Lorien Corbelletti, Gail Steele, Jeff Boisseau
Best Specialty Ensemble (Play) – The Three G's
Best Lead Actor (Play) – David Allen Prescott
Best Ensemble Performance (Play) – Cast
Best Direction (Play) – Lorien Corbelletti
Best Production (Play) – Boeing, Boeing
MARY POPPINS
Best Supporting Actress (Musical) – Pam Sontag
Best Youth Actress (Musical) – Emma Waterhouse
Best Prop Coordination (Musical) – Celeste Billia
Best Lead Actress (Musical) – Christy Wendlandt
Best Lead Actor (Musical) – Timmy Chase
Best Musical Direction – Joanne Landry
Best Production (Musical) – Mary Poppins
JAMES AND THE GIANT PEACH
Best Youth Actress (Musical) – Sadie Kennedy
Best Specialty Ensemble (Musical) – The Insects
View Complete List of Nominees
Winners will be announced at the DASH Gala on Saturday, August 26 at Cary Hall in Lexington.
Tickets for the event are available on the EMACT website.
Recent Productions
Click on image to enlarge