Teams Launched to Date:
2002 – 2003
Mums and Muffins
This group of special needs students practices their skills by running a bakery for school staff and often visits the local nursing home with their baked goods.
2003 – 2004
Classroom Learning Activities for Samoset Students (C.L.A.S.S.)
Students at Samoset started this Venture in order to provide more learning activities for their 7th and 8th grade classes. Since the extracurricular activities that their school offered were too few and too exclusive, CLASS formed to elicit greater participation from their fellow classmates in more activities.
Learning Environment Activities for Students (L.E.A.F.S)
This Venture Team designed and built a greenhouse with the help of the Center for Technical Education students, to make environmental activities exciting for all students.
2004 – 2005
Wildcat Wares Wagon
This group of special needs students opened a school store to promote school spirit and raise money for school activities.
2005 – 2006
Willing to Help Venture – Queriendo Ayudar
This multi-cultural Venture works with diverse elderly citizens making monthly visits and engaging in a variety of activities.
2008 – 2009
Positive Pre-School Pals
This team is comprised of eight lead Venturers, and encompasses their entire E.L.L. (English Language Learners) class. As a group of students with English as their second language, they have quickly learned how important it is to know how to read. Their venture has been working to partner with a pre-school within the Samoset Middle School and serve as mentors to the pre-school students there. The team reads and performs crafts with the students, and has also held book drives throughout the year to benefit the pre-school.
2009 – 2010
Samoset Gazette
The Samoset Gazette is a school newspaper, that focus' on reporting news for the kids of Samoset Middle School, that is written specifically by the kids. All stories are also developed and thought up by the students as well.
Teen Generational Service Venture
Students at Samoset Middle School work with Kindergarten students to create Bio-poems and using technology to print and display them.
Walking Around the World Venture
This venture aims to promote health and fitness by giving the students at their middle school a chance to walk to the country of their choice in their free time before and after school. Participants who walk enough miles to get to a specific country receive a stamp in a homemade passport, as well as a sheet of paper with facts about the country. The countries that have been chosen for this venture are based on the diverse population of the school.
2010 – 2011
Book Critique Clan
This group of young people love to read and share their love for books with others while encouraging their peers to read for pleasure. As a way to give back to their community, members read to elementary students within their school and host various events and fundraisers throughout the year, including a workshop from the Eric Carle Museum's, The Whole Book Approach, a school-wide book swap, and a Barnes and Noble Book Days event. Many of these activities offer exceptional learning opportunities, not only to help the Book Critique Clan learn new skills and better their Venture, but for all students at Samoset Middle School.
2011 – 2012
P.A.W.S (Powerful Adolescents Working for Shelters)
P.A.W.S. Venture Team was launched in January 2012 to support local animal shelters in North Central Massachusetts. Research has shown that millions of dogs and cats are euthanized in U.S. shelters every year, and there are shelters without funding to pay vet bills. P.A.W.S. addresses these problems by creating awareness of the importance to adopt from shelters through "Adoption Awareness Day," and hosting annual fundraisers including a "Dog Beauty Contest" and "Hat Day" at their school, donating 50-75% of the proceeds to local animal shelters. This Venture Team plans to host recruiting events every year and continue their Venture as they enter high school in Leominster, MA.
L.E.A.F.S.
LEAFS centers on the idea of providing bird houses for the Venture team's community. Venture team members will construct the bird houses in their Technology Education class and provide the houses for several locations, such as Samoset Middle School, Sunrise Assisted Living and potentially the walking trail at Barrett Park, all in Leominster.
Samoset Spirit Squad
This group of students plans to help their school become a community through a spirit squad. The "Spirit Squad" wants students to feel welcome and enjoy being a part of Samoset. Acceptance and belonging will be their main goal, as well as making the school a "bully-free" zone.
2012 – 2013
Beat Out Bullying (B.O.B.)
If you ask members of B.O.B what the biggest problem affecting their school on a daily basis, it's bullying going unnoticed in the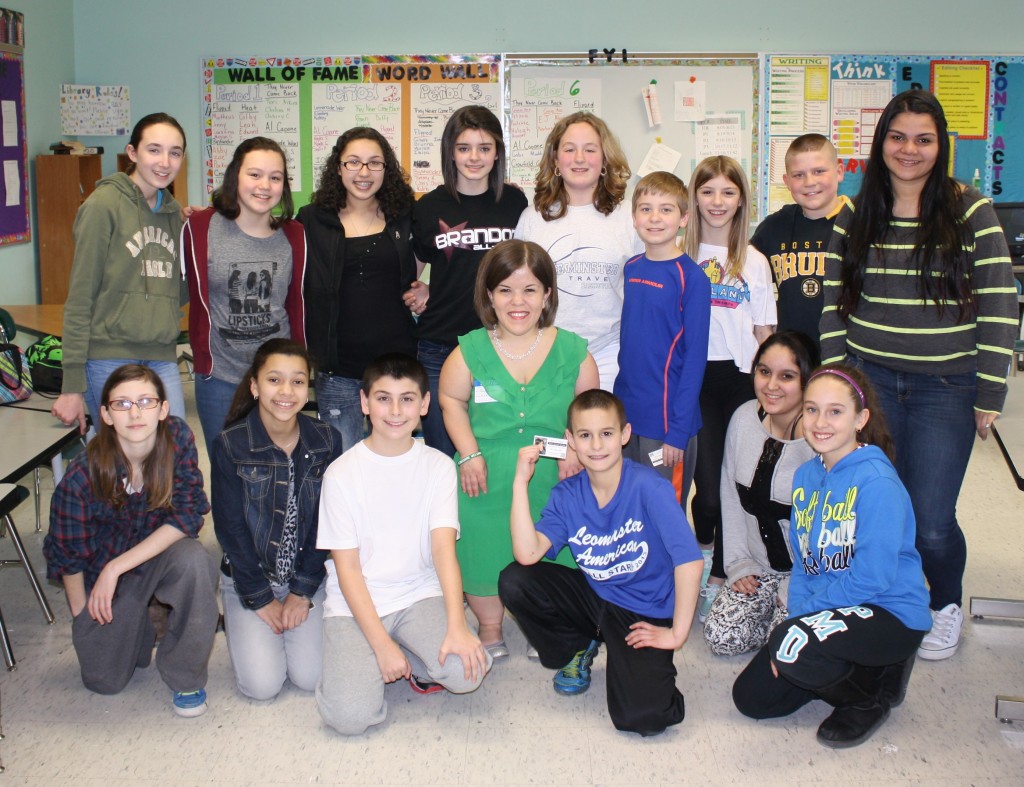 hallway, after class or at lunch. Determined to not stand idly by, these middle school students chose to stand up, speak up, and beat out bullying at Samoset Middle School. By doing research to define bullying, educating peers on its effects and raising awareness on prevention, B.O.B hopes to be the voice of victims who deserve a safe, fun environment to learn and grow.
2013 – 2014
Leominster Sports & Recreation Club (LSRC)
As students of Samoset Middle, the boys of LSRC right away noticed the state of neglect that the school's outdoor baseball field and basketball court. As enthusiastic sports-lovers, these Venturers decided to do something about it so that future students can enjoy outdoor sports with improved facilities. Working with the City of Leominster's Recreation Department, the students are determined to bring these athletic areas back to their former glory and help make Samoset sports great.
2014 – 2015
Let's Evolve a Friendly Society
Ten years ago, the original LEAFS crew built a greenhouse at Samoset Middle School. Unfortunately, as members of the group graduated the greenhouse fell into disarray and most recently has been used as a supply shed. Thankfully, our new LEAFS team jumped into action to not just bring back the greenhouse, but make it even better! By cleaning and upgrading the greenhouse, they will be able to use it a source of education for Samoset students as well as donate plants to local senior centers to help bring cheer and beauty to the Leominster community.
2015 – 2016
TIME (Transform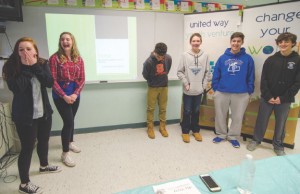 , Inspire, Motivate, Engage)
Inspired to want to help the vulnerable populations living in the city of Leominster, this team of dedicated eighth graders has decided to start a Venture in which they created a pen pal program with the local senior residence program and are working with students at Fall Brook Elementary to create a mentoring program between the two schools. They believe that by connecting these different generations they can not only help these populations, but that they will develop a stronger community within Leominster.
2016 – 2017
Lil' Helpers
Seeing the needs of their preschool students within Samoset, and knowing how important it is for kids to have role models from older students, the students of Lil' Helpers decided they should find new ways to ensure the students success. They have decided to work with the students to get them new educational supplies and toys as well as set a time to meet with the preschoolers to set themselves up as mentors to help their growth.
Helping Hands
Having seen first-hand the impact that Ginny's Helping Hands has had on the Leominster community and those in need, the members of the Helping Hands Venture Team has made it their mission to help get this program the support it needs. By fundraising within their school and running their own clothing and item drives, this team hopes to continue the impact Ginny's is having for those in need.