Teams Launched to Date:
2012 – 2013
Kylee's Kare Kits for Kidz – Frances Drake Elementary School
After learning that many of her peers went home each weekend to a foodless house, Kylee could not rest until she started a plan to provide meals to those families. The group has gained momentum and now currently provides food every weekend for children in the Leominster public school system. Each Friday, the children receive a "kare kit" that includes cereal, juice, fruit cups, applesauce, pudding, macaroni & cheese, chicken noodle soup, granola bars, fruit snacks, or peanut butter crackers, varying week to week depending upon what is donated. With the support of family, friends and community, Kylee is now providing food to 40 children on a weekly basis.
2015 – 2016
Care and Play for Animals – Frances Drake Elementary School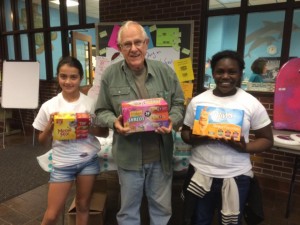 Care and Play for Animals is the first whole-school Venture Team, and remarkably is made up of entirely elementary school students! A self-selected team of fourth and fifth graders interviewed their peers, identifying animal care and sports as the primary passions of Frances Drake Elementary students. The Team collects critically needed supplies for Pat Brody Cat Shelter and others, while providing fun sport-related incentives to students for their support.